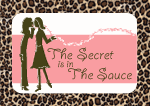 What an honor!! I'm being featured on the amazing site "
The Secret is in the Sauce
" today!!!
SITS, as we like to call it, is a place where women can come together in support of each others blogs. Kinda like giving each other a virtual pat on the back, high five, or hell yeah!! I've been following the blog for about 6 months now and I've made so many connections with other bloggers that are just invaluable.
So WELCOME to my cupcake blog!!! If you'd like to read more about me personally, check out my other blog:
Tales of a Firedancer
. Thanks for stopping by!!